Teeth Whitening Options in Nampa, ID
Teeth whitening is one of the most enduringly popular cosmetic dentistry procedures, and for great reason – when you know your teeth look healthy and in amazing condition, you can show your smile to the world with confidence, and that can be transformative. So if you're looking for great quality professional teeth whitening service in Nampa, Idaho, then Southridge Dental is here to help.
If you've ever thought about getting a professional teeth whitening service, you're not alone. It's the most popular cosmetic dentistry service of the moment and it really can be amazing for many people in terms of boosting their confidence.
Why Opt For A Professional Teeth Whitening Service?
You may have seen some of the many home teeth whitening products on the market – everything from peroxide gels to charcoal toothpastes, whitening strips and brush-on pens. But none of these products give the quality of results and the instant and long lasting whiteness that a professional teeth whitening service can provide. Your smile makeover couldn't be easier – at Southridge Dental we offer a friendly service to make you comfortable and confident.
Teeth Whitening Services In Surgery Or At Home in Nampa
A professional teeth whitening service can give you the attractive, white smile of your dreams. It's a simple, completely pain-free treatment that is quick and easy to complete. If you don't want to be treated in the office, there is also an at home solution. We offer Opalescence Go whitening, which features custom moulded trays that fit exactly to your teeth and can help you achieve a brighter, whiter smile in just fifteen minutes a day at home.
Achieving A Healthy Smile
The process of teeth whitening can remove the stains on your teeth that are caused by drinking things like soda, coffee and red wine, from smoking or from eating certain foods. These stains can cause discoloration that makes us feel self conscious about showing our smiles to the world. Sometimes even the natural aging process can cause the teeth to discolor over time. With a new and improved smile, you will feel like a new person. Once your teeth are looking great, you are also likely to take better care of your oral health overall, keeping your new look teeth healthy and white by regularly brushing and flossing, which is the best way to prevent disease and decay. This procedure is relatively inexpensive, quick, painless and can make a real difference to how you look and how you face the world. Some people choose to pair teeth whitening with other procedures such as invisible teeth aligners to achieve their perfect smile makeover. Southridge Dental can assess your teeth and design a tailored treatment plan to give you a fresh new look. Having great looking, well cared for teeth can lift your whole appearance. And whether it's for a special occasion, a job interview or just to make you feel better in yourself, a whiter smile is something to be proud of. Your brighter future is waiting for you.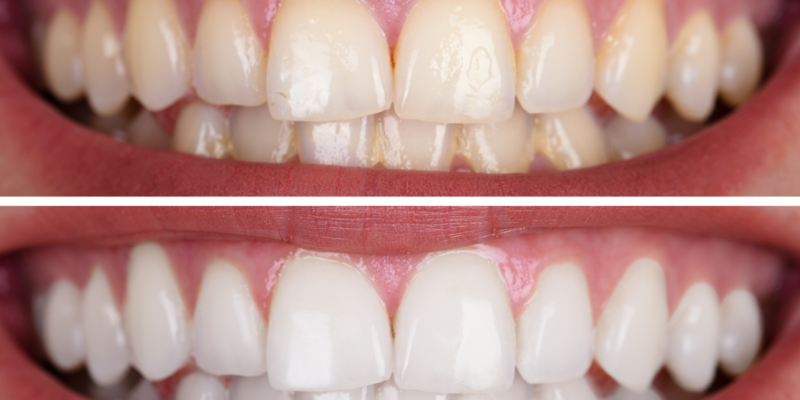 Top Reasons to Get Your Teeth Whitened
Teeth whitening is a really popular cosmetic dentistry procedure in Nampa, Idaho, and across the world. It is easy to see why teeth whitening is popular and why so many people hope to achieve a whiter smile. The difference that can be created by whitening the teeth can be an incredible transformation.
If you are hoping to have your teeth whitened, you will discover that many benefits can be gained from this popular procedure. Here are just some of the reasons people choose to have their teeth whitened:
Getting your teeth whitened helps you to achieve a brighter, healthier-looking smile. When people think of clean and healthy teeth, they picture a sparkling smile.
Drinking red wine, coffee, and tea can contribute to teeth becoming discolored and stained. This discoloration and staining can impact the look of your smile, but it can be resolved with the help of teeth whitening. Teeth whitening will eradicate staining to your teeth and get them looking fresh once again.
Even if you do not drink red wine, tea, or coffee, discolored teeth can still be an issue and often a result of the aging process. If you have noticed that your teeth have become discolored over the years, teeth whitening can help resolve this issue.
One of the biggest reasons that people decide to have their teeth whitened is to boost their confidence. When you have white teeth, your smile is enhanced, which can help your confidence to soar.
Why Choose Professional Teeth Whitening in Nampa, Idaho?
If you are hoping to achieve whiter, brighter teeth, you may be considering trying out some of the at-home teeth whitening products currently for sale. While these teeth whitening products may seem like a good idea, they are unlikely to achieve the same impressive, long-lasting results that you can gain from professional teeth whitening.
Southridge Dental Teeth Whitening Options
At Southridge Dental, we offer our patients a choice of teeth whitening options in Nampa, Idaho. You can either get your teeth whitened professionally in our office, or we can provide everything you need to whiten your teeth successfully at home. We use Opalescence Go whitening and provide custom-made trays that are created to fit your teeth exactly. Using the custom-made trays, you will be able to whiten your teeth at home in just fifteen minutes per day.
Contact Southridge Dental for Professional Teeth Whitening in Nampa, Idaho
Are you ready to improve your smile and enjoy the confidence of having beautiful white teeth? If so, here at Southridge Dental, we are ready and happy to help you achieve white teeth in Nampa, Idaho. Whether you would like to have your teeth whitened in our office, or you would prefer to have your teeth professionally whitened from the comfort of your own home, we can help.
Call the friendly Southridge Dental team today at (844) 437-8184 to get started on your journey to a whiter, brighter smile.