Technology That Lets You See For Yourself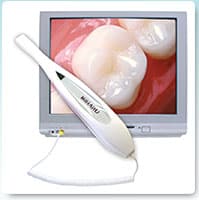 With the intra-oral camera, patients work together with Dr. Squires in making decisions for your best dental health. This miniature video camera provides a clear and enlarged picture of the interior of your mouth to let you see what teeth need attention. You will be able to discuss options with your doctor to take care of the problem with the best course of action.
Protection for Your Teeth
Using a properly fitting mouthguard while playing sports can prevent the loss of teeth and other oral trauma. Each year, approximately 5 million teeth are knocked out due to injury. The mouthguards sold in stores do not provide adequate protection. The American Dental Association advises wearing custom-made mouthguards. We can fit and provide this type of protection for you.
The ADA recommends their use for these sports: acrobatics, basketball, boxing, field hockey, football, gymnastics, handball, ice hockey, lacrosse, martial arts, racquetball, roller hockey, rugby, shot putting, skateboarding, skiing, skydiving, soccer, squash, surfing, volleyball, water polo, weight lifting, wrestling.
Sterilization of Tools
We want you to know we never take any risk with your health. All our re-usable tools are cleaned in an autoclave and monitored by an outside lab to the highest hygienic standards. We also use single-use tools that are disposed of properly after one use.
Amazing Results with the Dental Laser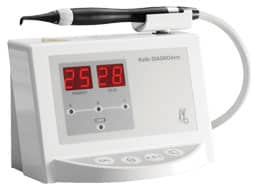 The laser is used in dental procedures to make treatment easier for patients. It also means no pain or discomfort with this noninvasive, alternative procedure to traditional care with a scalpel and sutures. Healing time is much shorter while producing excellent results.
Lasers can be used in place of surgery to recontour gum lines, clean inflamed tissue, and bring instant relief from canker sores or mouth ulcers.
Our New SprintRay 3-D Printer
With our new SprintRay 3-D printer, we can provide faster service at even more affordable prices. The new printer can help us create many dental solutions you need, often including same-day service. For example, we can create dentures and clear aligners using the SprintRay printer.
Dentures are a restorative dental option that can replace missing teeth. Once your mouth is ready for the dentures, we can have the dentures prepared for you in no time. Clear aligners are effective like traditional braces, but we make them from clear plastic, so they are discreet. Many adult patients appreciate that they are almost unnoticeable when you smile or talk. Our new printer allows us to eliminate the expensive, time-consuming middleman otherwise required to produce many excellent dental products. At Southridge Dental in Nampa, Idaho, we'll pass the savings and the fast turnaround time to you because we hope to see your happy, healthy smile.
Nothing beats an easier, more comfortable dental visit. If you have questions about the latest dental technology, give us a call today at

(208) 466-2458.