Remaking Your Smile
Having the smile of your dreams lets you look good and feel good too! With preventive treatment and a variety of restorative techniques, you can have a new smile in less time than you think. There are many cosmetic dentistry options to choose from with veneers, whitening, bonding, crowns, or dental implants that will fit your budget and make your smile its very best.
Veneers Can Give You a Great Smile in Two Visits!
With Cosmetic Dentistry we offer our patients the option of having a new smile in as few as two visits! With porcelain veneers, we can correct severe stains, wide gaps, and misshapen teeth to make your smile a pleasing one.
We use the most durable, advanced dental ceramic to make your veneers. They are bonded to your natural teeth to create an even, attractive smile. Veneers are also used on a single tooth that is chipped or worn down. It conceals the problem and will blend in with the other teeth, as it is made to match in color.
Patients have been very pleased with how easy it is to obtain a new smile that is functional as well as attractive.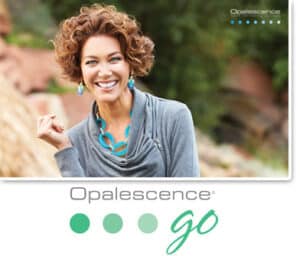 Get A Dazzlingly White Smile!
Southridge Dental is excited to feature Opalescence Go™ whitening, and our patients are experiencing excellent results! This whitening system consists of prefilled Ultrafit™ trays that conform to your teeth for a perfect fit. No goopy impressions required! You can achieve dramatic whitening in just 15 minutes a day! The combination of ingredients reduces sensitivity and can even help to improve the overall health of the teeth. We also offer Sinsational Smile™ Whitening for patients who want in-office treatment and fast results.
Bridges Close the Gap for Missing Teeth
A bridge is an alternative solution for missing teeth. We custom-make your bridge from the best dental materials. Your bridge is secured on each side with a crown to keep it secure in your mouth. It functions like your own teeth and does so comfortably, as well as provide a full smile.
Restoring Your Tooth with a Crown
When a tooth is broken or too worn away to restore with a filling, a crown is the correct treatment. We make our crowns in our lab with the highest-quality materials. The crown is placed over any remaining tooth structure to regain its full strength and function while providing a complete and natural look to your smile.
Modern Fillings
We use only composite resin filling material for restoration of cavities. This type of material contains no metal, and the fillings are made to match the shade of the tooth. They bond tightly to tooth enamel to prevent decay from setting in. They also provide additional strength to the tooth structure while keeping the natural appearance of the tooth.
Silver-amalgam fillings have been the most common type used by dental practices. As metal does not bond tightly to a tooth, they can become loose and allow cavities to start around them. They also created dark patches in light teeth that are very noticeable when speaking or laughing. Patients do not like them, as they do not create a pleasing smile.
Our patients are pleased, however, with the type of filling materials we use as they make for an attractive smile and bond tightly for a durable, natural-looking restoration in front or back teeth.
Better Oral Health with a Full-Mouth Rehabilitation
There is more to good oral health than cleanings and fillings. Many patients have bite problems or trauma and injury to the jaw and teeth, and suffer from tooth grinding, TMJ pain, gum disease, or missing teeth. Pain and chronic bad breath, poor quality of sleep, and a displeasing smile are some of the results of these types of problems. We can help you have a better quality of life by assessing your dental problems and presenting a plan for relief.
Through digital X-rays, photos, and impressions of your dental arches, we will discuss what needs to be done to relieve the symptoms and problems. A treatment plan will be presented along with financial planning that will let you return to a healthy, happy smile without pain or discomfort.
Schedule a complimentary consultation by calling (844) 437-8184, and discover how cosmetic dentistry solutions and teeth whitening can give you a brilliant new smile!